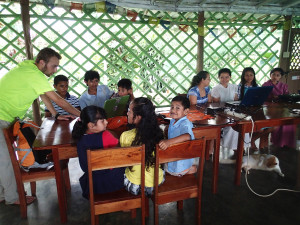 In addition to teaching kids about biology and the environment, we are looking for other ways to support primary and secondary education. In Belize, high school is not publicly funded and many children, especially in rural areas such as ours, do not get the opportunity to go to high school because their parents cannot afford to send them. Parents need to pay registration fees, and also buy uniforms, shoes, and all books, which amounts to about $1000.00 BZD per year per student; many families have multiple children to send to high school each year. Since 2014, T.R.E.E.S and guests have sponsored many local children to fund their textbook purchases. We are now reaching out to other caring souls that would like to sponsor a child in upcoming years.
We are also undertaking another initiative that supports our local primary school; planting shade trees in the yard so that students may have a cool shady place to eat lunch. Not only will the trees provide shelter from the unrelenting sun, planting trees teaches kids the value of nature, and how to care for plants. We also provide tutoring services to students from this school that need extra help with their homework, and offer computers and internet free of charge for students that need to get online to complete their schoolwork.
If you would like to help us help our local students and schools, you can donate to T.R.E.E.S and have your money go straight to these programs (no administration overhead!). We also appreciate donations of school supplies that we can either donate to the local school, or use with the children that visit our facility for homework tutoring.