T.R.E.E.S Belize Farms is located on the 200 acres of the T.R.E.E.S property in the Maya Mountains of Belize. Our farm is situated in the luscious fruit farming valleys of the hummingbird highway, within a series of communities composed of a mix of small family owned farms and mid-sized commercial operations. These farming operations are all surrounded by large expanses of 3 protected forest reserves. Our demonstration farm aims at connecting farmers, research partners and government and providing them with low-cost methods to increase their yields while maintaining biodiversity and soil integrity. We also hope to develop and teach our community about value-added transformation for products grown locally.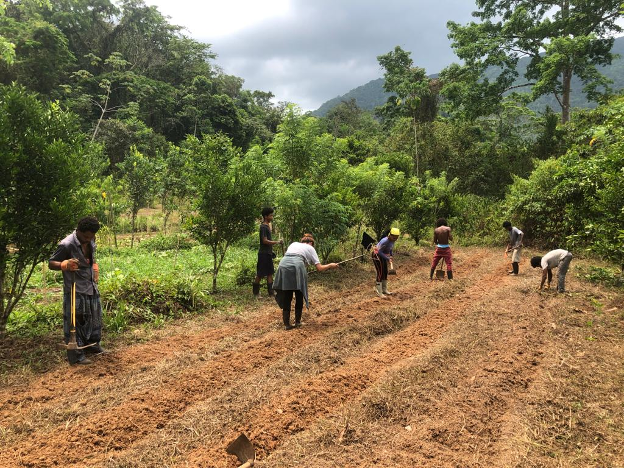 When T.R.E.E.S purchased the property in 2011, it came with an old abandoned citrus orchard that had been planted in the 80's. The orchard consisted primarily of old Tahiti lime trees (one of the root stocks for the main cultivar still used in Belize). Many of the trees were damaged from twenty years of use and neglect and the soils were extremely depleted and battered. The long and rewarding process of clearing, pruning, mulching, and reviving the old soils began. New Tahiti limes were planted, and we added a large variety of fruit trees species to the orchard. The early varieties of trees were selected and planted specifically to test out what would grow well in our geographical area and have economic value.
Starting in 2018 we began hiring farm managers to help with our farming projects and our concepts of 'Farm to Table'. The idea was to use permaculture concept to establish a local, organic farm that would provide our guests with meals from which the food was mostly grown at the station. Subsequently, in March 2020, since the onset of Covid-19 as an international pandemic, our visions and plans changed with the changing times. As we lost our tourism revenue, we focused on food security and growing food that could be sold to a local target audience. This gave us time to initiate our Tropical Renewable Agriculture Program, the program focuses on developing alternative farming techniques to slash-and-burn agriculture in our community.
Agricultural operations have expanded rapidly in Belize since the start of the pandemic as subsistence farmers have been desperate to obtain food security and maintain their livelihoods. As a result, slash-and-burn has accelerated and now threatens key at-risk species and the overall biodiversity of the area.
T.R.E.E.S. has already begun a pilot program that aims to mitigate this through sustainable-farming campaigns and educating local farmers on sustainable agricultural practices. We plan to monitor forest canopy cover and species populations throughout the duration of the project and have already begun aerial drone surveying to compare current canopy cover with the following years. We expect wildfires to decrease and listed species to recover as farmers substitute alternative sustainable methods of farming.
Livestock and Fowl
It is important to us at TREESBelize Farms to provide our guests and community with pasture raised animals and free-range ducks and chickens. We currently have over 70 HY-line laying eggs, about 50 White Cornish chickens on rotation and we're building our flock of Muscovy ducks which are used both for eggs and meat. Recently we have expanded our operation to breeding of sheep and pigs.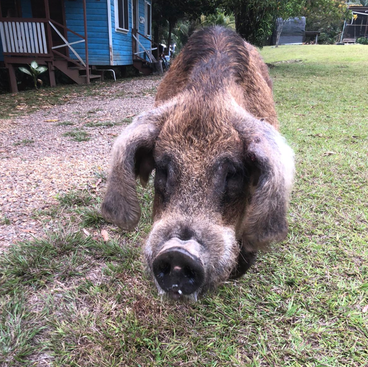 Having farm animals is crucial to our operation and are used for much more than just meat and eggs. The chicken and duck manure are turned into tea and used as fertilizers and foliar sprays on our crops and fruit trees. The sheep and pig manure is integrated into our larger compost building demonstration on soil replenishment. We have also reduced our overall use of gas and oil typically used by the tractor. The sheep keep the grass low in the orchard and the pigs are used as natural plows. All of these methods are part of our regenerative methods that can be easily applied to our community.
10 Years Later
The objective of our demonstration farm is to apply methods of soil regeneration through using organic agriculture, permaculture concepts and traditional farming methods to grow our products. We aim at providing high quality meat, eggs and fruits and vegetables to our clients' tables and provide sustainable farming methods to our larger community.
10 years later our orchard has changed dramatically, we currently grow over 40 types of tropical fruit trees, berry bushes and spices. This includes; 7 banana varieties, 4 varieties of mangos, 4 variety of avocado, navel orange, pink grapefruit, 2 varieties starfruit , 4 varieties of plums and 4 different varieties of guava. We also have nutmeg, cinnamon (other spice trees).  We have increased the diversity of products that we cook in our commercial kitchen and that we offer to clients and groups.
With the onset of Covid, we also now grow large quantities of traditional root vegetables such as Cassava, sweet potato and Taro. These are used to serve for our guests and also turned into flour for a wide range of gluten-free products available upon request.
For more information contact us at info@treesociety.org