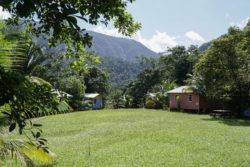 Our two lovely double jungle cabins (four individual cabins) can be cleverly re-arranged to be either double occupancy rooms with a king-sized bed or turned into bunk-houses that will sleep up to 5 guests. Our two quaint single cabins can also host a double occupancy with a double bed or be turned into bunk-style rooms that will sleep 4 guests. Our double cabins are great for family and friend groups that want to share a common deck. Our beds are all fitted with posturepedic foam mattresses to guarantee a good night's sleep!
Each cabin comes with a large deck with hammocks, tables, and chairs overlooking the luscious jungle or the beautiful Maya Mountains. The cabins are all equipped with fire alarms, fire extinguishers, fans, bedding, and towels. As we are a research and education center and not a resort we ask that you bring your own bath products, and preferably products that are bio-degradable for use in our jungle showers.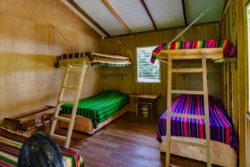 In each of the Jungle Cabins we have one electrical outlet that can be used to charge your electronic devices. There are no security boxes in the cabins, but we do have a security box in the office that is available for you in which to put your travel pouch, cash, passports, etc. We also have a secured area in the main building where you can leave laptops and other devices
while you are in the field or travelling the country.
All of the cabins have outdoor shared bathroom (flush toilets) and shower buildings (hot water), just a short walk from the cabins.  Purified drinking water is available at the shower building near the cabins and also in the main hall.