---
Eco-Friendly Place. Eco-Friendly People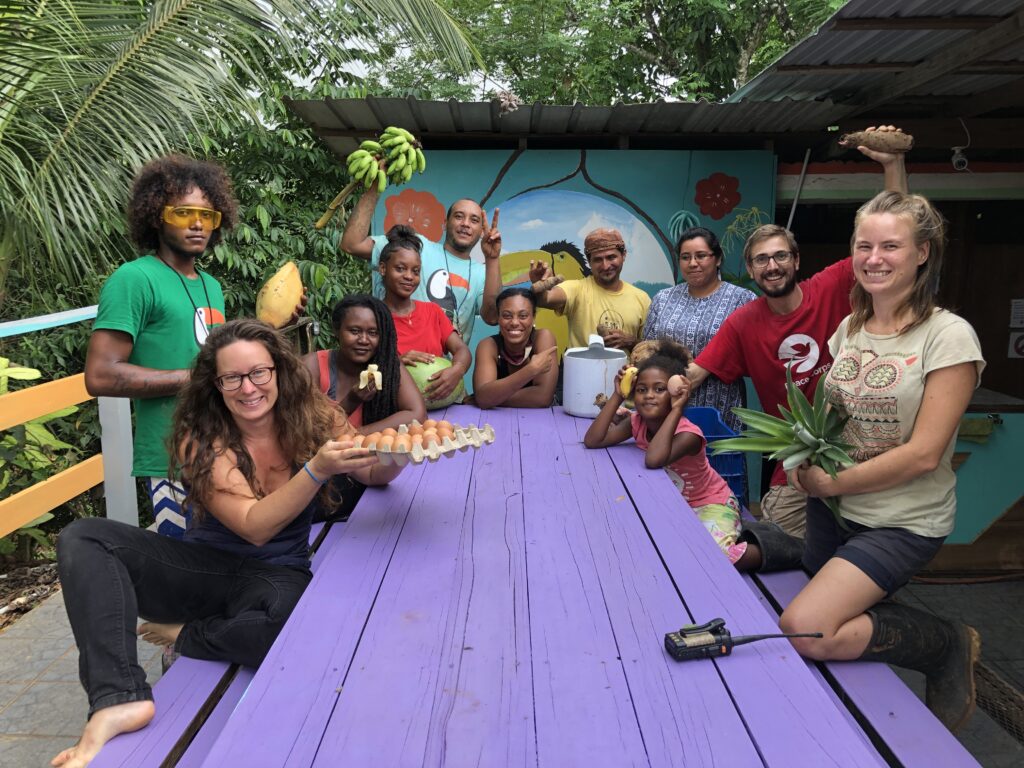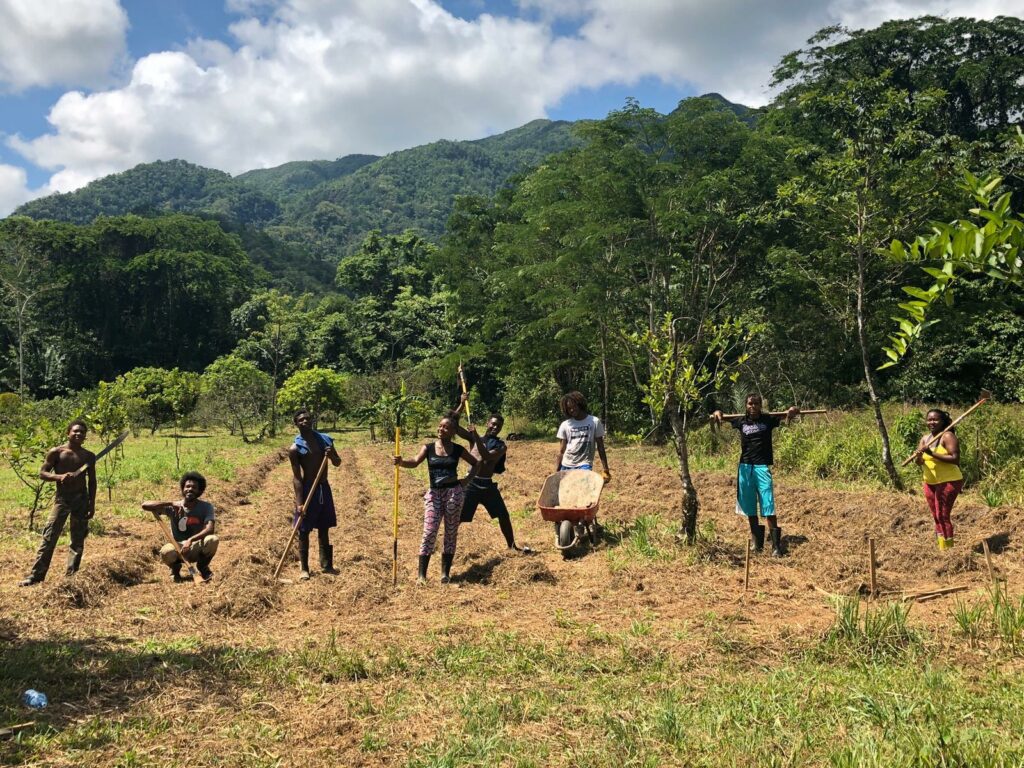 Join the T.R.E.E.S Eco-Community for 2 days or longer!
Come stay with us at T.R.E.E.S in Belize and experience back to nature living in our jungle paradise at the base of the Maya Mountains. We are promoting a new culture of sustainable tourism and community living for people that want to get a taste of living and working together at our operational biology field station and organic farm. We welcome one and all, from individuals to families! Minimum length of stays for guests are 2 days but a 35% discount is applied to stays of a week or more (and 50% discounts for month long stays!). These discounted rates are in exchange for our visitors helping us keep our space beautiful and our research, education, and farming projects going by participating in daily community service volunteer hours (2-3 hours per day).
Visitors can reserve easily using our online booking and payment system. Credit card payments incur a 4% service charge that is added to the total cost of your booking. If paying in cash or by PayPal "Friends and Family" option (send money to registration@ecorana.ca), this fee is not applicable. For group bookings, contact us directly: info@treesociety.org.
**Please note that due to limitations in our booking system, bunkhouse beds may appear to be unavailable at the time of your booking. If this happens, please email us directly to check availability of a bed in one of our bunkhouses!
Join our new T.R.E.E.S Eco-Community
We are seeking like-minded individuals to help us create a sustainable Eco-Community focused on positive healthy living. In a collaborative working and living spirit, people from diverse ethnic, social, and educational backgrounds can come together to assist T.R.E.E.S in inspiring an ethic of conservation to our surrounding local communities in the biodiverse Maya Mountains of Belize. At T.R.E.E.S we have always been praised for our family feel, but with this initiative we hope to take that feeling one step further by branding a new style of sustainable community-based tourism, where everyone contributes to making our home their home by sharing in the daily tasks that are required to keep our research and education center and organic farm operational.
Community members will take part in our research and education initiatives in wildlife ecology, conservation land management, sustainable Agriculture initiatives, and local community development and education. Organic farmers, gardeners, biologists, landscape architects, landscapers, foresters, artists, musicians, chefs, food engineers, skilled tradespeople, photographers, marketers, graphic and website designers, social workers and counsellors, natural medicine practitioners, yoga and wellness instructors, and teachers of all desciplines are folks with skillsets we are looking for to help us create our model Eco-Community. All ages are welcome!!
NEW! COVID-19 Health and Safety Guidelines are being practiced at T.R.E.E.S
As you can imagine, COVID-19 has imposed a 'new normal' for us which we must all adjust to, and for the safety of everyone in this facility we are asking that everyone please adhere to the following rules while on the premises:
Wear face masks in indoor common areas and even outdoors in the presence of other guests and/or staff
Adhere to social distancing – 2 m apart
Everyone will be subject to frequent temperature checks throughout the day (at meal times)
There will be frequent cleaning and disinfecting throughout the day in all common areas however guest rooms will only be cleaned prior to check-in and after check-out
Towels and bedding changes will be provided directly to the guest by request.
We are asking that staff and guests wash and sanitize hands often using the multiple stations installed throughout the property
We will only accept contactless payment at the office – PayPal, Square, and Stripe
If you or someone you know is feeling unwell or showing COVID-like symptoms, please let the manager know:
o Fever
o Dry cough
o Tiredness
o Sore throat
o Headache
o Loss of taste or smell
o Aches and pains
o Diarrhea
Anyone showing signs of COVID-19 will be placed in quarantine immediately; staff showing symptoms will be quarantined in the staff house and guests showing symptoms will be quarantined in an isolated cabin (Jaguar House). People in quarantine will be asked to remain in their cabins until they have been cleared with a negative COVID-19 test; before this time, a designated person will bring meals and anything else required.
The COVID-19 emergency phone number is 0-800-MOH-CARE
Communal spaces include a yoga platform, a licensed restaurant and dining hall, dry lab, and free limited WiFi is available in our lounge. Free and secure self parking is also provided. Three of our rooms offer en-suite full private bathrooms and kitchenettes and other cabins have access to shared toilets, showers, and kitchen for self-catering.
Please help us keep this facility safe for everyone by adhering to the rules mentioned above. Thank you!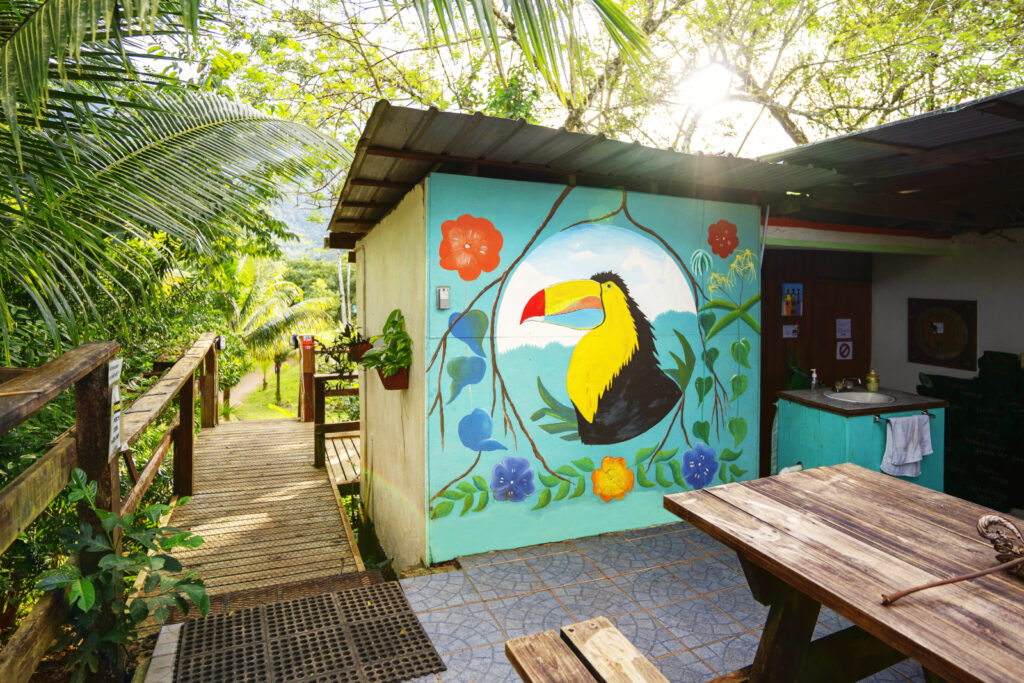 Yoga Platform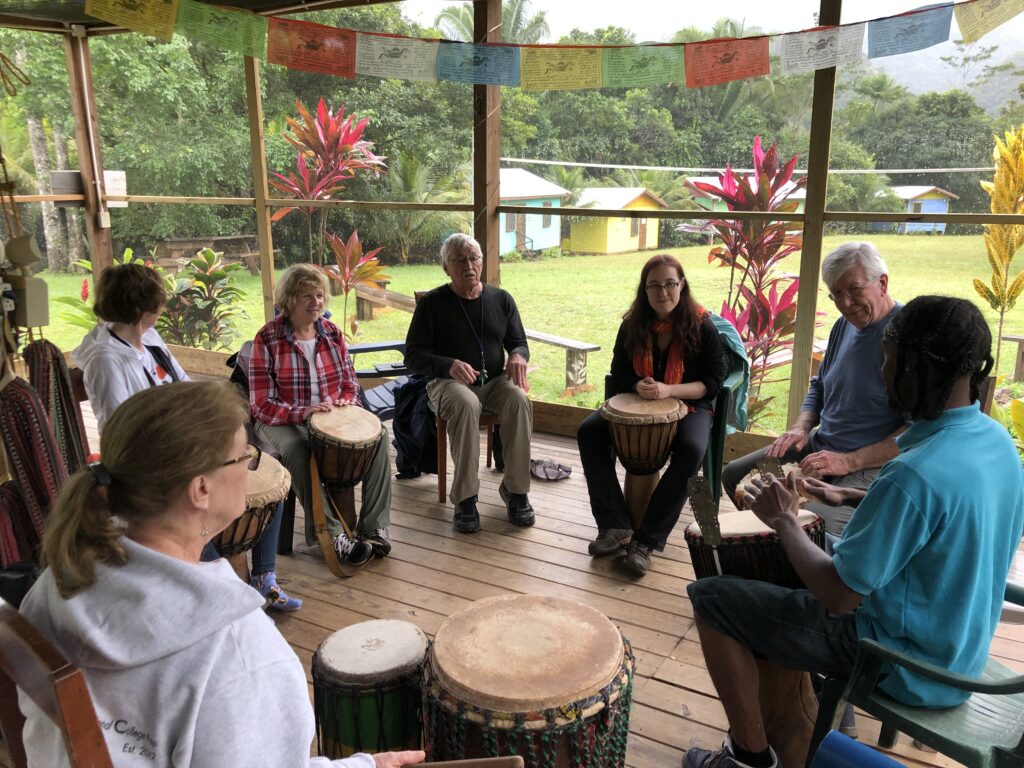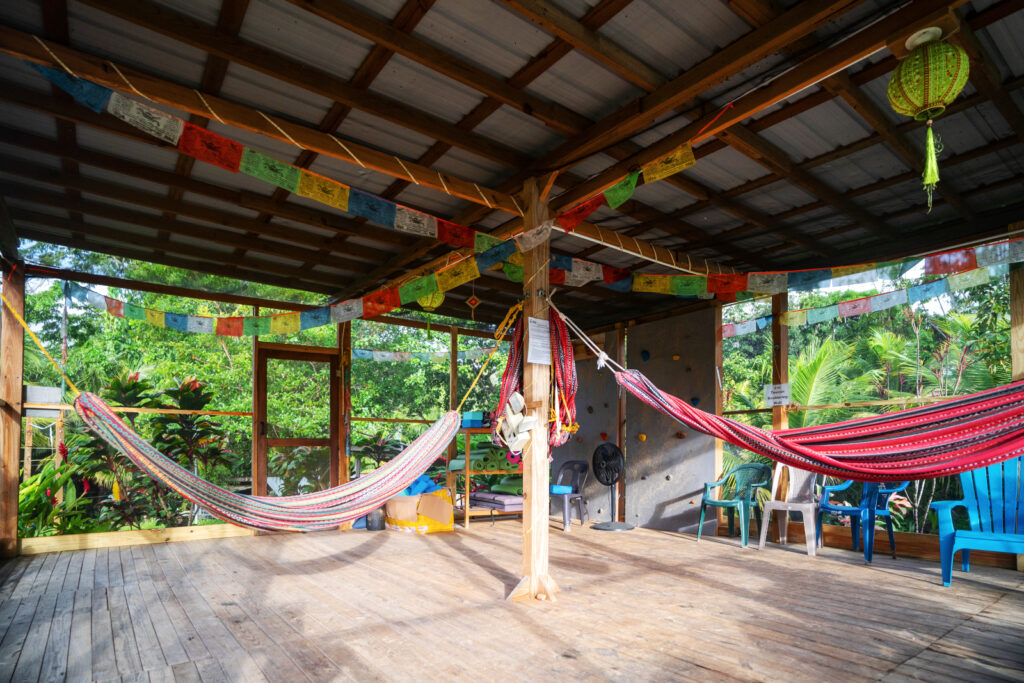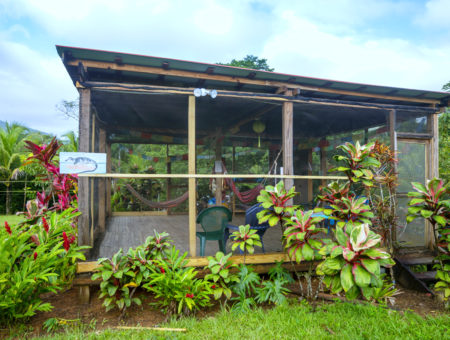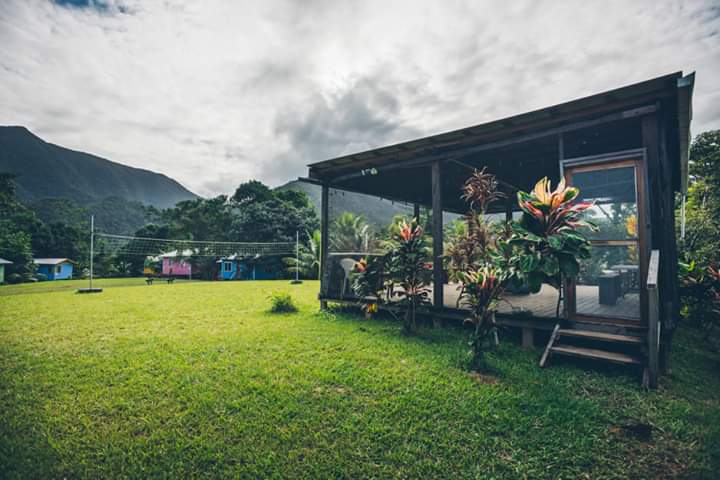 Dining Area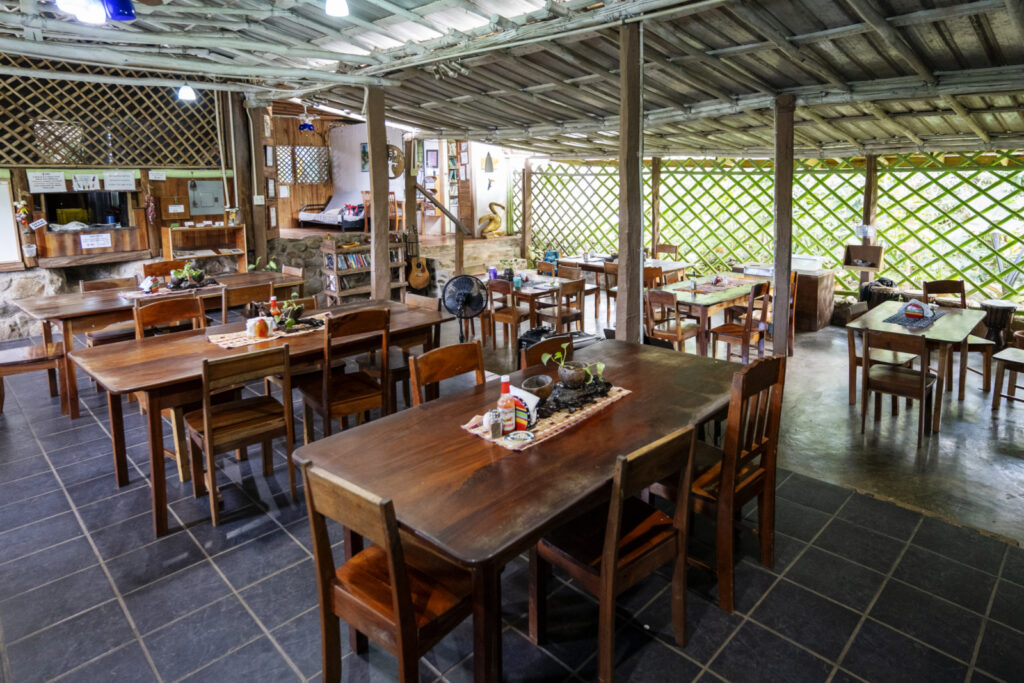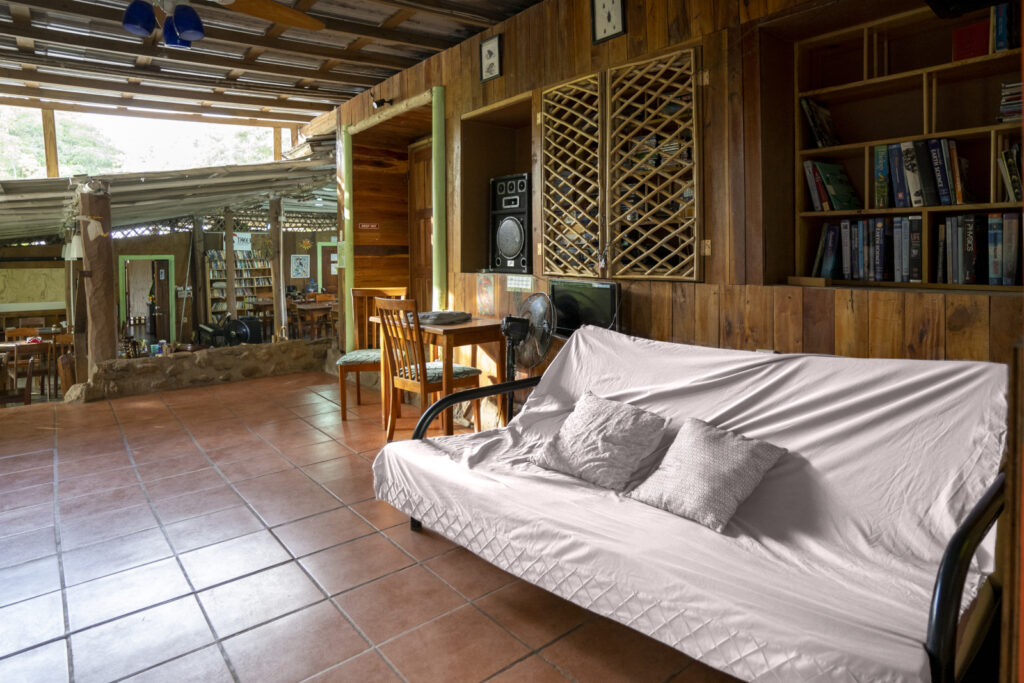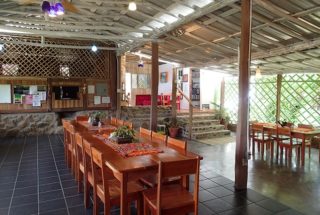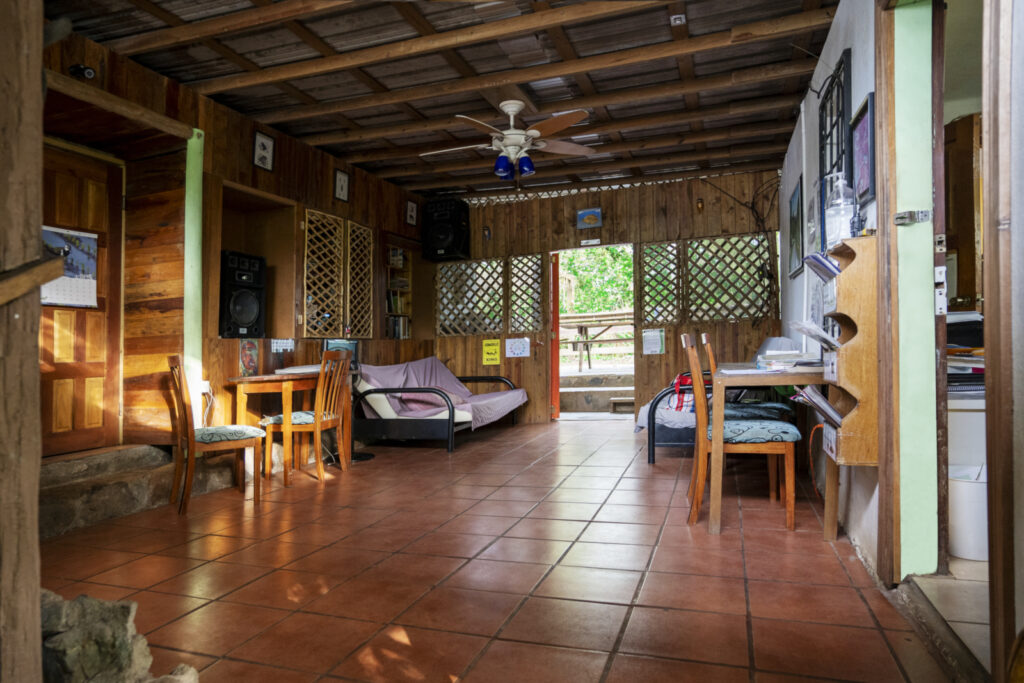 About this Area
T.R.E.E.S Research Center and Eco-Community is located half-way between Belmopan and Dangriga, at 27.5 Miles Hummingbird Hwy. Marie Sharp's Factory is a local attraction and the area's natural beauty can be seen at Five Blues Lake National Park, the Sibun Forest Reserve, and Blue Hole National Park.
What's nearby
Five Blues Lake National Park – 12 min drive
Blue Hole National Park – 17 min drive
Marie Sharp's Factory – 28 min drive
Mayflower Bocawina National Park – 48 min drive
Getting around
Belize City (BZE-Philip S. W. Goldson Intl.) – 102 min drive