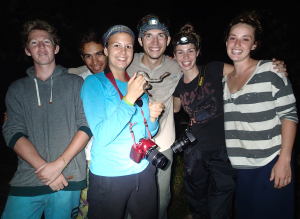 Internship Program
Our internship program is designed as a work-training experience so that students will gain invaluable skills in their field which will aid them in finding their career paths and give them experiences that will help them find future employment in government agencies, Environmental NGOs, and in consulting firms. Through working on long-term monitoring projects that are designed to be published in peer-reviewed journals and stressing the importance of good note taking, standardized data collection, and scientific writing, students will also be prepared for a future career in academia.
Internships
Internships usually run 6-weeks and interns pay modest fees ($250-280/US/week) to cover the cost of food and lodging (same gender bunkhouses). Accommodations are provided through the weekend but since most interns/volunteers opt to travel on the weekends we do not provide meals during the weekend. For anyone staying on site on the weekends, basic communal kitchen facilities are available and groceries can be purchased in Belmopan (35 min. bus ride) at the weekly Friday market.
All fees go directly to supporting the development of conservation projects in Belize. This is done by paying T.R.E.E.S incurred expenses of hosting the student, for materials and tools for the intern's project, and for paying for locals' time in sharing their knowledge. A portion of the fees are set aside and used for scholarships and bursaries so local Belizean students that cannot afford to pay for an internship can still have the same training opportunities as international students.
If you are an international student in financial need, your academic institution may be able to offer a scholarship or bursary for this opportunity. Potential interns should also look into the possibility of getting accredited through their institution for the internship, either through an honors program or independent study. Mature students or non-students with extensive experience in tropical wildlife ecology techniques or other needed skills can act as volunteer internship coordinators and apply for a fee reduction and stay for $150 US/week (same inclusions as above).
Please review our specific internships which are posted on our partner site (www.ecorana.ca) and join us today!